Be a Winner at your Super Bowl Party!
Four Ingredient Skinny Queso

makes 4 servings – ½ lean, 3 green
Ingredients
½ cup unsweetened original almond milk
1 1/2 cups reduced fat , shredded sharp cheddar cheese
¾ cup low fat plain Greek yogurt
½ cup Rotel diced Tomatoes and Green Chilies
1 – 1lb bag mini sweet peppers, halved lengthwise, stems and seems removed
Directions
1. In a small saucepot, heat almond milk to a simmer
2. Remove saucepot from heat, add cheese, and stir until completely melted.
3. Add Greek yogurt and diced tomatoes, and stir until well-combined.
4. Serve with halved mini sweet peppers!
MINI BBQ MEATLOAF
Makes 4 servings
Per serving: 1 lean, 1/4 green, 2 condiments
Ingredients:
1 cup green spring onion (scallion) chopped
10 sprays non-stick pan spray
¼ tsp Salt
½ tsp Pepper
1 1/2 pounds Lean Ground Beef
1/2 teaspoon Garlic Powder
1 Egg, whisked
1/4 cup Sugar Free BBQ Sauce (G Hughes)
Directions:
Preheat the oven to 425 degrees. Prepare a large baking sheet by lining it with foil.
In a large bowl combine the ground beef, egg, 4 tablespoons BBQ sauce, onions, and a dash of salt and pepper. Mix together just until combined.
Divide the mixture into 4 equal-sized portions and form them into mini-footballs. Place each one of the foil lined baking sheet. Spread 1-2 tablespoons of BBQ sauce over the top of each loaf and then bake for 20 minutes, or until no longer pink the center. Top with slices of mozzarella to look like football.
Crispy Zucchini Chips

Ingredients:
1-1/2 cups, thinly sliced zuchinni
Cooking Spray
dash of sea salt
Directions:
Preheat oven to 200 degrees. Line a large baking sheet or two small baking sheets with parchment paper. Spray lightly with cooking spray. Place zucchini slices in a single layer on parchment paper. Bake for 3 1/2 to 4 hours until desired crispness, turning zucchini slices occasionally.
1 Green – 1 Healthy Fat
Easy BBQ Meatballs

Ingredients:
5 Trader Joes Turkey Meatballs OR
6 Jennie-O Homestyle Turkey Meatballs OR
10 Butterball Italian Style Turkey Meatballs (1 Lean)
1/4 cup Guy's Smokey Garlic BBQ Sauce (2 Condiments)OR
J Hughes Sugar Free BBQ Sauce (2 Condiments)
1 tsp low sodium soy sauce (1/2 Condiment)
Directions:
Bake meatballs according to package. Trader Joes is 20 minutes at 350 degrees.
Combine BBQ sauce and soy sauce in a small bowl and pour over meatballs.
Enjoy!
1 Serving with 1 Lean, 2.5 Condiments and No Healthy Fats Required
Bell Pepper Nachos

2 bell pepper, any color – or use the mini ones (see veg weight sheet for measurements)
9 oz ground turkey
4 oz shredded cheese
2 tsp taco seasoning
1/2 c diced tomato
2 tsp sliced green onions
10 olives sliced
Directions
Cook meat till done, add taco seasoning and a little water. Cook for a few more minutes. Slice and quarter bell pepper into chip-size pieces. Using a cookie sheet or individual dish layer in order; peppers, meat, cheese, onion. Bake at 350 for 13 minutes. Top with tomato and olives.
2 servings:
1 lean
3 green
1 healthy fat + 1 condiment
Buffalo Cauliflower
INGREDIENTS
6 cups of fresh cauliflower florets
2 teaspoons garlic powder
a pinch of salt
a pinch of pepper
1 tablespoon butter, melted
¾ cup Frank's RedHot hot sauce
Preheat oven to 450. Spray a baking sheet with cooking oil, or olive oil. Set aside.
Mix the garlic powder, salt, pepper, melted butter, and hot sauce in a small bowl.
Add the cauliflower into a large gallon-sized bag, pour the buffalo sauce into the bag. Shake until the cauliflower florets are fully coated. Spread on a baking sheet.
Bake for 20 minutes and use Bolthouse or other healthy blue cheese dip or dressing of choice , but use modestly, and don't unhealthy up the snack!
Cauliflower Bread Sticks


1 cup raw grated cauliflower
1/4 cup egg substitute
1 cup shredded or 4 oz 2% light mozzarella,
Garlic salt and Italian seasonings, to taste
Marinara Sauce
1/2 cup Italian diced tomatoes
(Puree Italian diced tomatoes in a small chopper)
Preheat oven to 350. Mix cauliflower, 1/4 cup egg substitute, and 3 oz or 3/4 cup shredded mozzarella together in a bowl until combined. Line a 9×5 loaf pan with parchment and lightly spray with Pam. Pour mixture into pan about 1 -1/2 inch deep. (It is okay if the mixture does not cover the entire pan). Bake at 350 for 30 min or until set. Lift the edges of the parchment and place bread with parchment on to cookie sheet. Carefully use a spatula to lift the edges of the dough off the parchment and flip the dough. Bake for an additional 15 minutes at 450 degrees. Take out of oven and with a pizza cutter, slice strips through set dough. Separate slightly. Sprinkle with garlic salt, Italian seasonings and 1 oz or 1/4 cup 2% reduced fat mozzarella or three cheese blend. Continue baking at 450 degrees for about 10 more minutes until cheese is melted. Serve with marinara sauce.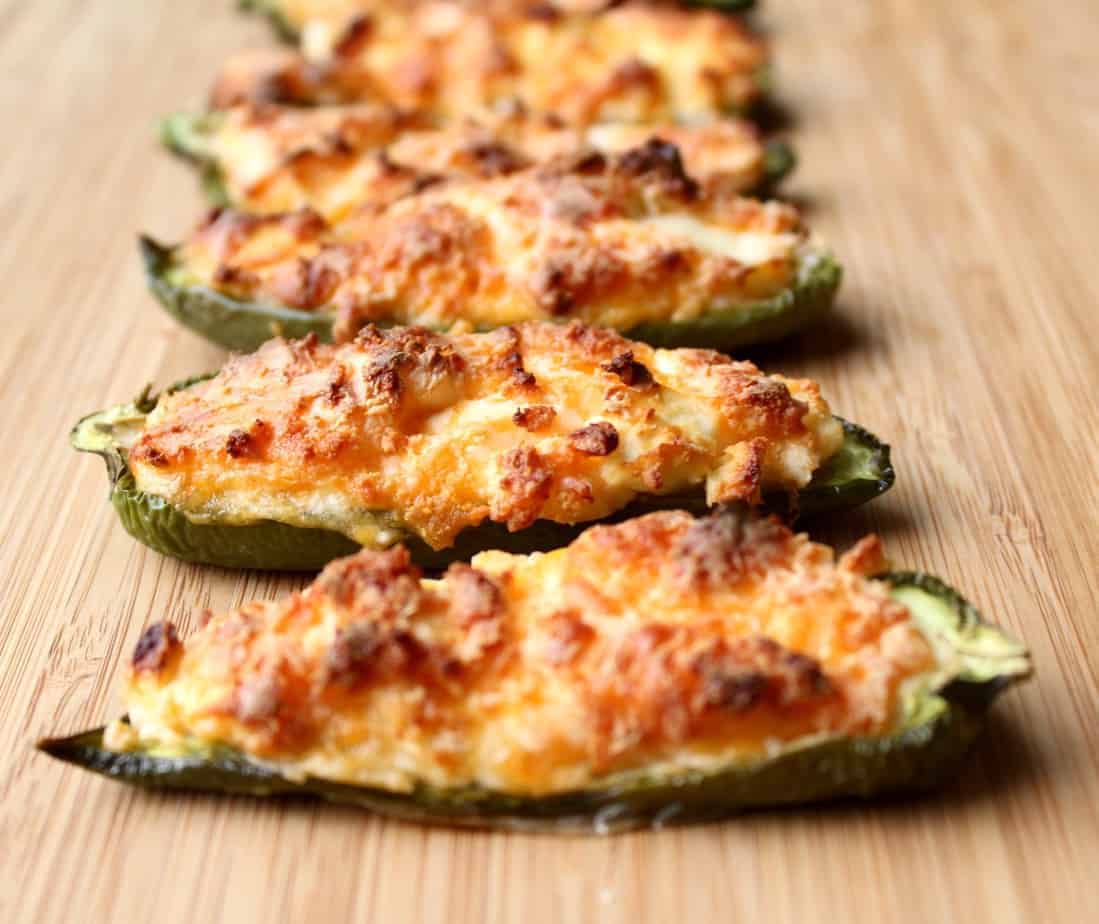 Healthy Jalapeno Poppers
Ingredients
Cooking spray
4 oz 95-97% lean ground beef
6 whole jalapeno peppers (or mini sweet peppers)
4 oz (½ cup) low-fat plain Greek yogurt
4 oz (1 cup) shredded reduced-fat sharp cheddar
3 medium scallions, sliced thin
1 large red bell pepper, diced fine
¼ tsp garlic powder
¼ tsp cumin
¼ tsp chili powder & 1/8 tsp paprika
1. Preheat oven to 350° F. Lightly grease a baking sheet and set aside.
2. Cook ground beef in a non-stick pan over medium-high heat until done.
3. Cut jalapeno peppers in half lengthwise. Remove seeds and membrane.
4. Combine beef, yogurt, cheese, scallions, red pepper, and spices in a medium bowl.
5. With a spoon, fill jalapeno pepper halves with cheese mixture.
6. Place the peppers, cut-side up, on the prepared baking sheet. Bake for about 20-25 minutes
7. Remove from oven and serve immediately.